---
Gloucester MFC News
Sunday 3rd June the theme will be Warbirds any type from any era that has seen military service.

See Blog http://www.glos-mfc.co.uk/blog/blog12/apr12/apr12.htm
---
SCSA
We are holding another foamy (ie soft leading edge and fuselage ) pylon race on Sunday 13th May, 9:30am for a 10 o'clock start, on the windward slope on the day. We need flyers and helpers please to make the flagging more manageable. We had a great turn out in January so please turn up and support your club again.
Non Members welcome
On 13th May my mobile will be switched on from about 8:15am ie. when I get out to the windward slope if anybody wants to know which slope we are going to be on. 07790679940.

Bryan Tucker
(For and on behalf of SCSA)

An evening of full sized glider flying will be arranged with reduced rates, this will take place in May or June
Please let Bryan know if you wish to take part, http://www.scsa.org.uk/cont1.htm
Next Club Meeting
The next Club meeting is on Wed 16th May 7.00PM, a club flying session and fun comp, on the slope if windy or Minchinhampton Common if the wind is light. This will be published here at 6.00PM on Monday 14th
---
Slope Flying
Monday
Tuesday
I flew my AVA on Minch in the evening, the lift was very weak, no SDH problems
Wednesday
Smooth slope lift on Selsley, Pete flew his charisma, Mick a Weasel and me my Old Pro

Thursday
Friday
Saturday
I took my chances at Leckhampton today. The furthest right side slope, I parked at the bottom of the hill on the Cotswolds Way. It was quite a long muddy walk and I met two of the Cheltenham regulars flying their 'Things'.
The lift was middling to amazing, made a lot of height with my Blaze and converted into some fun time.
I also flew my mini-ferret and the Hilla. I found the safest landing was to approach from low in front of the slope and at the top turn into wind over a gorse bush and just push down.
Same again tomorrow? I think I'll use the regular car park though, and the longer but easier walk.

Tony


Sunday

Rodborough was disappointing. I had a lonely hour's Alula chucking fun this afternoon on the SE slope, although the wind was all over the place, what there was of it. Every third chuck I hit a stonking thermal, then the inevitable Monty Python foot and a walk down the hill and back. Shoulder and legs ache now. Those that did non-flying things probably made the right choice.

John

I flew at Malvern there was some some strong thermal lift

I timed the climb from Westminster bank to north hill, A fitter younger person may be able to do it in 10 minutes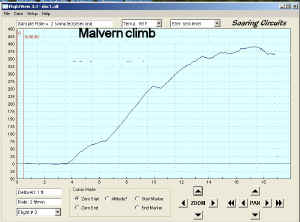 More photos at http://www.ebley.talktalk.net/photos2/?C=M;O=D
Indoor
---
For sale
http://www.bmfaclassifieds.co.uk/index.php?catid=56
Newly listed items
---
FOR SALE
Schulze 35 MHz FM receivers. Ultimate bi-plane, blendern tape, MVVS Petrol 26cc, RCV 91 4 stroke , OS 72 4 stroke, TX 2.4ghz, Laser 100 4 stroke. Laser 70 4 stroke, Irvine 61 (Red head) 2 stroke SC 180 AR 2 stroke. servo plug crimp pliers, 35 meg Receivers,, , 325mm heli blades, Crystals
For Sale Page http://www.glos-mfc.co.uk/forsale/for-sale.htm
---
Some Events
Join us on May 12th-13th 2012
Welcome to Warwickshire's premier aeromodeller show!
Long Marston Model Air Show 2012 will take place on the weekend of May 12th - 13th and will be bigger and better than ever before.
With reduced tickets prices, free camping and family attractions, the show will be an event for all of the family. We will of course have our favourite show pilots and traders supporting us (thank you to you all) and the usual entertaining and informative commentary from Dave Bishop.
12 & 13th May Long Marsdon airshow
Saturday May 19th Blackbushe model Airshow www.blackbusheairshow.co.uk
Also BARCS League Event. Hawling, Nr Cheltenham, Glos. Contact Martin Bell on martin@esoaring.co.uk or Mike Proctor on mproctor1@gmail.com or see www.esoaring.net/forum
May 12-13 Model Air Mayfly Weekend at Old Warden.
All Models Welcome, Especially Vintage and Electric. Ebenezer Mass Launch. Dave Boddington Memorial Trophy. R/C under 10 kg. Camping and Trade. Old Warden, Nr Biggleswade. Contact Mike Reynolds on 07775 662955 or see www.modelair.info
May 12-13 Old Warden C/L Aerobatics Events
Sat-SAM35 Events. Sun – Norman Winter F2B Memorial, Profile, Beginner and Expert. At Modelair Mayfly Weekend. Contact Tony Goodger on 01689 822683 or Paul Winter on 0208 958 6731
May 12-13 Old Warden C/L Carrier Deck
Basic Carrier Deck Plus Training. At Model Air Mayfly Weekend. Old Warden, Nr Biggleswade. Contact Andy Housden on 0208 541 0186 or Carrier UK at www.carrier-deck.com
May 13th South Devon Glider Day
Dartmoor SS Club. On Site Winch, Bungee and Aerotow. Little Haldon Airfield, Nr Teignmouth, South Devon, off B3192. Contact Joe Spires on 01626 834014 or Stan Yeo on 01626 332287
Inc. SAM 35 Vintage Power Duration. Middle Wallop, Nr Andover. Contact Bill Longley on 01258 488833 or tasuma@btconnect.com
May 19th Blackbushe Model Air Show Blackbushe

RCMF EVENT LIST http://www.rcmf.co.uk/4um/index.php/topic,87486.0.html