---
Gloucester MFC News
See Blog http://www.glos-mfc.co.uk/blog/blog12/apr12/apr12.htm
Sunday April 29th. Spring BBQ postponed until the following Sunday.

---
SCSA
13th May foamy pylon race, on the local slope
An evening of full sized glider flying will be arranged with reduced rates, this will take place in May or June
Please let Bryan know if you wish to take part, http://www.scsa.org.uk/cont1.htm
Next Club Meeting
The next Club meeting is on Wed 16th May 7.00PM, a club flying session and fun comp, on the slope if windy or Minchinhampton Common if the wind is light. This will be published here at 6.00PM on Monday 14th
---
Slope Flying
Monday
Tuesday
Selsley was very pleasant in the evening, a gentle breeze on the west facing slope with some light thermals, later the wind went a little to the south and it was challenging to stay up
Wednesday

Thursday
Friday
Cam long down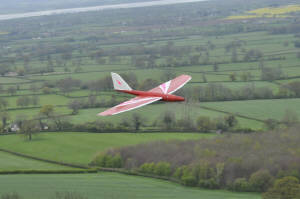 Saturday
Selsley was not nice, very turbulent, Tim's Blade was going very fast
Sunday

More photos at http://www.ebley.talktalk.net/photos2/?C=M;O=D
---
For sale
http://www.bmfaclassifieds.co.uk/index.php?catid=56
Newly listed items
Schulze 35 MHz FM receivers

The greatest FM receivers ever made, PCM reliability great for electric models I have never had a glitch with one of these. Use standard Futaba or similar crystal.

Top row Alpha - 835W vgc. £20.00 each
Botom row 835W & 835S damage to casing £15.00 each.

Contact Chris B; 07799 338517.
---
FOR SALE
Ultimate bi-plane, blendern tape, MVVS Petrol 26cc, RCV 91 4 stroke , OS 72 4 stroke, TX 2.4ghz, Laser 100 4 stroke. Laser 70 4 stroke, Irvine 61 (Red head) 2 stroke SC 180 AR 2 stroke. servo plug crimp pliers, 35 meg Receivers,, , 325mm heli blades, Crystals
For Sale Page http://www.glos-mfc.co.uk/forsale/for-sale.htm
---
Some Events
12 & 13th May Long Marsdon airshow
Saturday May 19th Blackbushe model Airshow www.blackbusheairshow.co.uk
Also BARCS League Event. Hawling, Nr Cheltenham, Glos. Contact Martin Bell on martin@esoaring.co.uk or Mike Proctor on mproctor1@gmail.com or see www.esoaring.net/forum
May 12-13 Model Air Mayfly Weekend at Old Warden.
All Models Welcome, Especially Vintage and Electric. Ebenezer Mass Launch. Dave Boddington Memorial Trophy. R/C under 10 kg. Camping and Trade. Old Warden, Nr Biggleswade. Contact Mike Reynolds on 07775 662955 or see www.modelair.info
May 12-13 Old Warden C/L Aerobatics Events
Sat-SAM35 Events. Sun – Norman Winter F2B Memorial, Profile, Beginner and Expert. At Modelair Mayfly Weekend. Contact Tony Goodger on 01689 822683 or Paul Winter on 0208 958 6731
May 12-13 Old Warden C/L Carrier Deck
Basic Carrier Deck Plus Training. At Model Air Mayfly Weekend. Old Warden, Nr Biggleswade. Contact Andy Housden on 0208 541 0186 or Carrier UK at www.carrier-deck.com
May 13th South Devon Glider Day
Dartmoor SS Club. On Site Winch, Bungee and Aerotow. Little Haldon Airfield, Nr Teignmouth, South Devon, off B3192. Contact Joe Spires on 01626 834014 or Stan Yeo on 01626 332287
Inc. SAM 35 Vintage Power Duration. Middle Wallop, Nr Andover. Contact Bill Longley on 01258 488833 or tasuma@btconnect.com
May 19th Blackbushe Model Air Show Blackbushe

RCMF EVENT LIST http://www.rcmf.co.uk/4um/index.php/topic,87486.0.html