Please email me if you wish to be added to the news group list
phil@glos-mfc.co.uk or Leave news group
You may need to unblock images to view photos on this email
Newsletter index old news letters
This letter is posted at http://www.glos-mfc.co.uk/phil/news.htm it may look better and the links will work
see www.glos-mfc.co.uk/phil/news.htm for last weeks
SpeKtrum RX recall http://www.horizonhobby.co.uk/aeroonline/knews/karticles/k40_ar6250_bulletin/k40_ar6250_bulletin.asp
Video clips
Gloucester MFC
The BBQ was great success, loads of food, see the blog later for photos http://www.glos-mfc.co.uk/blog/blog10/june10/june10.htm

SCSA News
Glider golf results

| | | |
| --- | --- | --- |
| Name | score | Position |
| Bryan Tucker | 16 | 1 |
| Pete Wolf | 17 | 2 |
| Mike Brinkworth | 17 | 2 |
| Phil Hayward | 17 | 2 |
| Geoff Dawson | 23 | 5 |
| Brian Boucher | 29 | 6 |
| Mick Shepherd | 34 | 7 |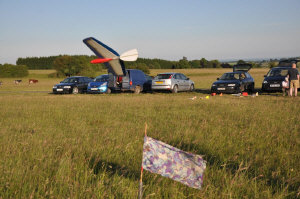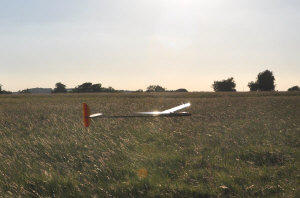 A pleasant evening for this fun comp, Bryan did well to beat the Alulas with his Zagi
Next comp is the electric glider comp in July, this will be handicapped so any model may compete, see http://www.scsa.org.uk/comp09/electric.htm
Events
Next club meeting July 21st Handicapped Electric Glider comp, Minchinhampton 7.00PM,
Tel Phil 07966 175193
meeting follows about 9.00PM at the Bear
Summer thermal, Sunday 25th Minchinhampton 11.00AM start
Andy Freeman went to the F3f comp at Whitesheet
results http://www.rc-soar.com/bmfa_league/comps/2010/f3f/f3f_2010_l3.xls
Monday
Tuesday
A fair amount of lift about, I bungeed from the GMFC but was blown downwind before I could get much height
Wednesday
Much the same as Tuesday, the wind a little less and lift although good was hard to spot with no clouds and only a few transiting gulls
Thursday
And still the NE wind blows but not as strong, lift was good and a few gulls and Buzzards to help with lift spotting
Friday
At last the wind dies down, Selsley was good early afternoon but went down hill as the wind went easterly
Saturday
FrSky module and Rx.
Several of you may know that I have been mulling over fitting an FrSky 2.4 module to my 9C transmitter. The new module has now been redesigned so the antenna fits inside the 9C transmitter handle. The module and 8 channel receiver cost just £40 and have many happy users in the UK. I am not dissatisfied in any way with 35 Meg but the slopes have been very busy theses past few weekends and I think that with so many 2.4 users frequency control for the rest of us is becoming less disciplined.
Well, on Saturday afternoon, I had several flights lasting over 90 minutes with a Slipsteam chevron wing and the 4 channel 500m ground range Rx. (FrSky 8 channel is 1.5Km ground range.) Giant Cod supplied the bits overnight.

Though not specked it was flown to a considerable height and behaved flawlessly.

The Tx was held in the small of Andy Georges's back and the signal was maintained. It was lost however when my hand was rapped around the antenna in addition to using Andy as an obstacle.

Recovery was immediate as soon as the antenna was released.

I feel very confident with this system so far.

I have an 8 channel full range unit to test in an old Centi Phase next. FrSky state that air range is double ground range.
The lift at Selsley was great, for those who stayed away!
Guy
We adjusted the C of G on Andy's Thermik, I joked that you keep taking out the lead in the nose until it crashes then put a bit back in, unfortunately this what happened; the rough air, no expo, 140% elevator travel and 140% rates made it unflyable. Andy had the broken wing tip repaired by Sunday
Balloons passing in the evening, a total of 23

Chaps,
I went to the Cotswold airshow at Kemble on Saturday, mainly because I won a pair of tickets in the local Independent free paper J
Anyway it was "a Grand day out" despite it being pretty chilly. I've uploaded some photos on Flickr if you want to have a look. See
http://www.flickr.com/photos/brinky08/?saved=1
Kemble
Most impressive things were:
The Swift glider doing a couple of rolls, whilst still on tow!
How close the 2 Lynx helicopter got to each other, especially when one was "reversing" whilst the other was following it.
The Red Arrows (say no more)
The Yak and the Provost formations - a great bit of tight formation flying
Regards,
Mike
Editor's comment,: great photos

Sunday
A huge amount of lift at Selsley, neck aching stuff - very easy to speck out. I think this was strongest lift so far this year, it was not easy to dethermal see http://www.ebley.plus.com/photo/thermal.jpg

more photos at http://www.ebley.plus.com/photo/?M=D
For Sale
Newly listed items
Zippy battery 20C 3S 2200ma £16
Phil 07966 175193
Wanted
40 sized trainer for Stephen
For sale http://www.glos-mfc.co.uk/forsale/for-sale.htm
R NER-326. 3 available, price £10.00 each. JR R700. 1 available, price £12.50.Jeti 4Ch MPD micro. 1 available, price £15.00.Jeti Rex 4 micro. 2 still available, price £10.00 each.Jeti Rex 5 plus. 2 still available, price £12.50 each.Jeti Rex 7 mini. 3 available price £15.00 each.MS Composit 5 Channel (helicopter receiver). 1 available price £15.00KYOSHO CALIBER I.C HELICOPTER

Thunder tiger 70
CMPro Cessna Skylane 182 83ins SOLD
2 no hl 400 gyros for sale £15.00 each
1 no hl 800 gyro for sale £20.00 new
Turnigy sentry 60amp speed esc £20.00 new
please ring Andy 07511947773
FUTABA 7C
Phase 3 Edge; Don't Panic . Eindecker Foam, Nieuport 28, Thrush Glider, Great Planes, Fokker DR1 and SE5A
ASP 0.61 FS engine.

Puppeteer Mk2 FL1001.
Plane Sailings Infinity, Flair Heron, Flair Volture, Phase 6, Unbreakable flying wing (cannot remember the name). Also for sale JR X388-S transmitter, and Sanwa Vanguard transmitter
10 off 8" x 4" E-PRO props'

HELICOPTER PITCH GAUGE, 2200MAH 3S BATTERY, 1800MAH 3S BATTERY, 138MAH 1S BATTERY, 800MAH 2S BATTERY, 1300MAH 3S BATTERY, HEX 900 9g/1.6kg/.12 SERVO, 10"X5"X4mm SERVO/GYRO TAPE
325mm 400/450 fibreglass heli blades £5 per pair
8.4 volt 650 ma Ni-mh pack for Twister £5
Sanwa TX, starter, gyro, 91 4 stroke, Battery, 35 meg Crystals
Events