Please email me if you wish to be added to the news group list
phil@glos-mfc.co.uk or Leave news group
You may need to unblock images to view photos on this email
Newsletter index old news letters
This letter is posted at http://www.glos-mfc.co.uk/phil/news.htm it may look better and the links will work
see www.glos-mfc.co.uk/phil/news.htm for last weeks
Video clips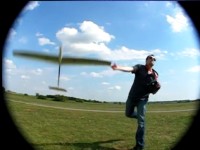 New launching video
Ade SAL flight
Phil DLG launch video
http://www.youtube.com/sqeela#p/a/f/1/5xDdInWl0Rk Ali mental glider video
Computer nerd spot
After trying many things to speed up my computer, I bought some more ram for it,. perhaps the updates use more memory, it worked fine on 250 meg when new, now it has 1Gig. This has stopped the hard drive chuntering
It still has a few problems and it looks like I will end up reinstalling Windows
Modelling tip no 79, Lipo batteries are sometimes too long to fit in a space CB can shorten them with a special technique see photo
http://www.ebley.plus.com/photo/battery.jpg
Gloucester MFC
Saturday the club had a visit from a Mosquito pilot, he was trailered away in less than an hour

http://www.glos-mfc.co.uk/blog/blog10/april10/april10.htm
A bit of a smell, a bit like a farm. The Farmer is spreading slurry or something beginning with S on the fields
GMFC MID SUMMER BBQ

SUNDAY JUNE 20th 2010

RETURN OF THE FAMOUS PIG ROAST!!!
CATERING BY "THE GURRS"

TEA,COFFEE AND COLD SOFTIES
BRING AND BUY

Slope/flat field
Monday
The afternoon started with some steady slope lift at Selsley, this became a little unreliable as thermal lift built up. Andy got his fireworks very high, My Pegase got away in a few thermals but failed to get very high, only 700 feet, this was due to poor flying as the lift was very strong. Andy flew his Pegase
Tuesday
Some good lift on Minchinhampton common,
Photo: my Highlight side arm launch dotted

Wednesday
Phil, Andy (Tiger) an I flew Frocester this afternoon. Light but steady smooth lift.

Phil had left his camera at home. Clever of him? He landed his Pegasus in the top of a huge hawthorn bush, blamed his glasses. And no-one could film it for posterity.

It was a sight up there only to be followed by the sight of Phil climbing the said bush and dismantling the beasty and lowering it to a helpful Andy. I naturally guarded the models and gear in the pits, though did help bring some of the dismantled glider back up the slope.
Guy
Perfect conditions for the limbo comp, and general flying, smooth lift with some light thermals http://www.scsa.org.uk/comp10/limbo.htm
http://www.ebley.plus.com/photo/peg-frocester.jpg

Thursday
Good lift in the morning on Minchinhampton common, Frocester was good for the first part of the afternoon, wind down to 1 MPH and big cloud sucking skyward in one huge thermal and very smooth, then it changed to sink and it stayed that way
Friday
Minchinhampton was not good early afternoon with lift hard to find, I was side arm launching and getting nowhere, Bill's bungeed Highlight also failed to find lift. We changed to Electric models, the sun came out and the lift appeared, but the wind increased and I struggled to get my Highlight unlimited to go upwind without the motor
Saturday
I flew behind my house early this morning, lift was building up. I went to Minchinhampton later, lift was OK but a breeze had sprung up taking me down wind too fast.
Rodborough was flyable but not nice, a strange mix of slope lift. turbulence and thermals.
The afternoon was hard work there was lift but it was hard to spot, the buzzards were having to do an occasional flap to maintain height. A glider from Aston down landed in our field after failing to find lift, the blue sky gave no clues where to to look for lift


Sunday
A good morning on Minchinhampton Common, Hlg scale and F3J flown
see http://www.ebley.plus.com/photo/kevin-hlg.jpg and Ian's YAK http://www.ebley.plus.com/photo/dont-talk-back.jpg
From Ben
For anyone who is interested, I have now flown something other than my flying wing. After five months of waiting I finally maidened my Flair Albatross.

After a lack of success trying to launch it with a tow line we removed some nose weight and tried a bungee instead which worked perfectly. Phil found a nice thermal for me which I sat in for a good ten minutes to get used to the plane. I then had some shorter flights but all very enjoyable.

Thanks to all who helped to get it flying. Fantastic
Frocester and Haresfield were flown in the afternoon
A great afternoon at the Gloucester club, loads of lift
Photo: Lee's Spitfire

more photos at http://www.ebley.plus.com/photo/?M=D
For Sale
Newly listed items
Wanted
40 sized trainer for Stephen
For sale http://www.glos-mfc.co.uk/forsale/for-sale.htm
Thunder tiger 70
CMPro Cessna Skylane 182 83ins
Zippy 2200mah 25c 3 cell battery £20
Phil 07966 175193
2 no hl 400 gyros for sale £15.00 each
1 no hl 800 gyro for sale £20.00 new
Turnigy sentry 60amp speed esc £20.00 new
please ring Andy 07511947773
FUTABA 7C
Phase 3 Edge; Don't Panic . Eindecker Foam, Nieuport 28, Thrush Glider, Great Planes, Fokker DR1 and SE5A
ASP 0.61 FS engine.

Puppeteer Mk2 FL1001.
Plane Sailings Infinity, Flair Heron, Flair Volture, Phase 6, Unbreakable flying wing (cannot remember the name). Also for sale JR X388-S transmitter, and Sanwa Vanguard transmitter
10 off 8" x 4" E-PRO props'

HELICOPTER PITCH GAUGE, 2200MAH 3S BATTERY, 1800MAH 3S BATTERY, 138MAH 1S BATTERY, 800MAH 2S BATTERY, 1300MAH 3S BATTERY, HEX 900 9g/1.6kg/.12 SERVO, 10"X5"X4mm SERVO/GYRO TAPE
Zippy Lightmax 2200mah 20C lipo. Suit 400/450 heli, Deans connector
325mm 400/450 fibreglass heli blades £5 per pair
8.4 volt 650 ma Ni-mh pack for Twister £5
Sanwa TX, starter, gyro, 91 4 stroke, Battery, 35 meg Crystals
Events