Please email me if you wish to be added to the news group list
phil@glos-mfc.co.uk or Leave news group
You may need to unblock images to view photos on this email
Newsletter index old news letters
This letter is posted at http://www.glos-mfc.co.uk/phil/news59.htm it may look better and the links will work
see www.glos-mfc.co.uk/phil/news58.htm for last weeks
New direction Compass
Selsley
Most of us have struggled to fly at Selsley when the wind goes a little East, the point at which it becomes unflyable depends on the lift and the model you are flying. .If you fly PSS you would be better off at Cam Long Down in a north wind, thermal models can still fly round to NNE but it is not pleasant.
We can fly as far as west, anything south of this and the wind clips Penn woods and give sudden sink. The new SCSA compass logo now shows Selsley stopping at north. We could of course argue over directions till the cows come home
Paul has put a lot of work into this. I have spent a lot of time measuring wind directions. to determine the point at which the lift fails
Haresfield
The old logo shows Haresfield stopping at SSW we can still fly past SW, although the wind is not on the slope it still gives lift as it rises up the bowl and is often smoother
Rodborough shows the limit at NE, this is wrong, 70 degrees east is about the limit for this slope
Cam Long Down may be flyable for NW but I have never tried as Selsley is easier. If the wind goes round to NE it is very turbulent. This slope is at its best with the wind 10 degrees east
Leckhampton
If the wind is NE you have a choice: struggle at Rodborough or CLD or travel to Lecky for a good fly, shame about the landing Zone.
Book mark http://www.glos-mfc.co.uk/scsa/ for access to the new compass which may be updated as we take better readings of the wind directions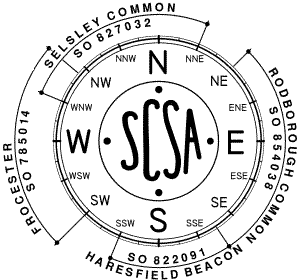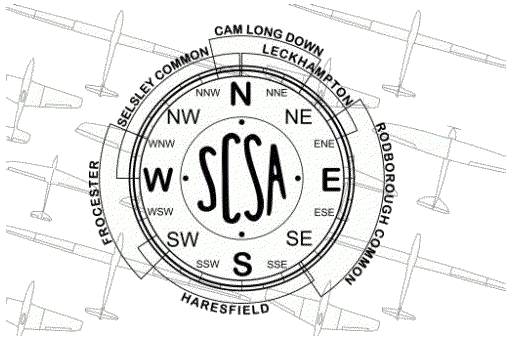 Indoor flying
Number were down due the cold weather
Photos; A Christian Eagle and Doug's Blade
Every Saturday 6.00 till 8.30 at Bentham, bar open till 9.00PM
There are more photos at http://www.glos-mfc.co.uk/indoor/id0910/indoorjan10/jan10.htm
Slope/flat
Monday
very light lift on Selsley but smooth with some thermal lift
Tuesday
Thursday
As good as it gets, a light westerly with a touch of north in it, not a cloud in the sky and not feeling too cold.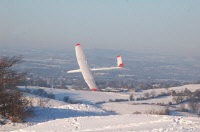 more photos at http://www.ebley.plus.com/photo/?M=D dated 07 - Jan
Friday
The Wind was NE, I tried Rodborough, It was very lumpy
Saturday at Cam Long Down
A very good day, smooth lift. Andy's Bevoltion went well seemed faster than a Zagi.
Photo is Andy's Mustang.
Sunday at CLD
Not as good as Saturday, the wind was square onto the slope, with some light snow, but not as cold

http://www.ebley.plus.com/photo/?M=D
SCSA

GMFC
For sale http://www.glos-mfc.co.uk/forsale/for-sale.htm
Zippy Lightmax 2200mah 20C lipo. Suit 400/450 heli, Deans connector
325mm 400/450 fibreglass heli blades £5 per pair
8.4 volt 650 ma Ni-mh pack for Twister £5
Sanwa TX, starter, gyro, 91 4 stroke, Battery, 35 meg Crystals