---
Gloucester MFC News
Saturday 2nd June club display both static & flying at St Leonards Recreation ground. Static display pm flying from 7.00-8.00PM

Sunday 3rd June the theme will be Warbirds any type from any era that has seen military service.

See Blog http://www.glos-mfc.co.uk/blog/blog12/may12/may12.htm
---
SCSA
Foamy Pylon Race 13thMay 2012
| | |
| --- | --- |
| Name | Position |
| Mike Brinkworth | 1 |
| John Davis | 2 |
| Brian Boucher | =3 |
| Barry Luen | =3 |


The wind was south-westerly on Frocester Hill, at 8:00 am it was only blowing 2 mph but by 10:00 am it had increased in strength to about 8-9 mph - just enough to make things interesting.

At 10:00 am we had 11 flyers lined up along with some helpers. The lift was good at times, everybody completed 2 slots and then we eliminated the 3 lowest scorers. We had 2 semi-finals each of 4 flyers and a final race of the 4 best semi-finalists. We finished by about 11:30 am.

The Final was exciting stuff with 2 very well matched contestants who had each come first in their semi-final heats. Mike Brinkworth was the overall winner from John Davies who was only a couple of metres away from his tail at the end of the race. They both flew very smoothly and appeared to accelerate round the turns - brilliant. The 3rd and 4th finalists Brian Boucher and Barry Luen were judged to be equal 3rd across the finish line.

Thanks to everybody for turning up and for the helpers who didn't fly, but flagged and spotted all morning.

An evening of full sized glider flying will be arranged with reduced rates, this will take place in May or June
Please let Bryan know if you wish to take part, http://www.scsa.org.uk/cont1.htm
Next Club Meeting
A club flying session. Non Members welcome
The next Club meeting is on Wed 16th May 7.00PM, a club flying session and fun comp, on the slope if windy or Minchinhampton Common if the wind is light. This will be published On the SCSA web sight at 6.00PM on Monday 14th
---
Slope Flying
Monday
Tuesday
A moderate breeze on Frocester
I tried to speck out my Wild Thing, I failed but got it to a dot, I also crashed it into a tree twice
We failed to get Yoyo's overweight M60 to fly
Wednesday

Thursday
Friday
A strong breeze at Selsley, cold and turbulent

Saturday
A good afternoon on Selsley
Sunday
Mr Sparky and I headed to Malvern and flew some scale ships, one of which was the HP18 Ben purchased for £61 at the SCSA auction. After some extensive work and lots of time the finished result is incredible
The maiden was an event, not because of any incident, but because of the way the Sparkster flew her. I was thoroughly impressed at the fact that this was his first attempt at flying such a large model and on a 'new' slope, yet he was throwing her around the skies with the confidence of someone that had flown her on many occasions. Easily the best (re) maiden I've witnessed - check out the maiden landing video below. A great and very memorable day.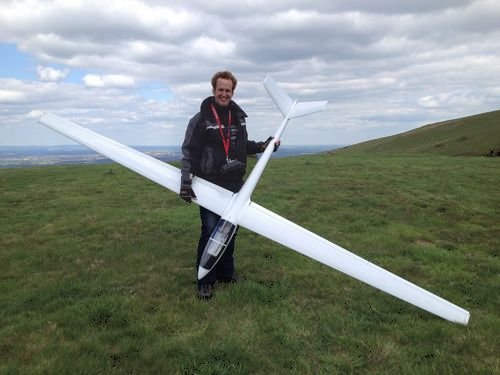 http://www.youtube.com/watch?v=9kbeU3-xxzg&feature=player_embedded

More photos at http://www.ebley.talktalk.net/photos2/?C=M;O=D
---
For sale
http://www.bmfaclassifieds.co.uk/index.php?catid=56
Newly listed items
---
FOR SALE
Schulze 35 MHz FM receivers. Ultimate bi-plane, blendern tape, Protech Megastar, MVVS Petrol 26cc, RCV 91 4 stroke , OS 72 4 stroke, TX 2.4ghz, Laser 100 4 stroke. Laser 70 4 stroke, Irvine 61 (Red head) 2 stroke SC 180 AR 2 stroke. servo plug crimp pliers, 35 meg Receivers,, , 325mm heli blades, Crystals
For Sale Page http://www.glos-mfc.co.uk/forsale/for-sale.htm
---
Some Events
Saturday May 19th Blackbushe model Airshow www.blackbusheairshow.co.uk
Welcome to the Blackbushe Model Air Show website!
The 2012 show is set to be the biggest and best yet. We are delighted to confirm:
Ali Machinchy will be organising the flight line on the day, including flying a selection of spectacular new models.
Steve and Matt Bishop will be flying a stunning display with their Red Arrow Hawks.
TJD Models, Motors and Rotors plus Paritech from Germany have all confirmed flying displays, with many more top UK pilots to follow.
Also BARCS League Event. Hawling, Nr Cheltenham, Glos. Contact Martin Bell on martin@esoaring.co.uk or Mike Proctor on mproctor1@gmail.com or see www.esoaring.net/forum
May 12-13 Model Air Mayfly Weekend at Old Warden.
All Models Welcome, Especially Vintage and Electric. Ebenezer Mass Launch. Dave Boddington Memorial Trophy. R/C under 10 kg. Camping and Trade. Old Warden, Nr Biggleswade. Contact Mike Reynolds on 07775 662955 or see www.modelair.info
May 12-13 Old Warden C/L Aerobatics Events
Sat-SAM35 Events. Sun – Norman Winter F2B Memorial, Profile, Beginner and Expert. At Modelair Mayfly Weekend. Contact Tony Goodger on 01689 822683 or Paul Winter on 0208 958 6731
May 12-13 Old Warden C/L Carrier Deck
Basic Carrier Deck Plus Training. At Model Air Mayfly Weekend. Old Warden, Nr Biggleswade. Contact Andy Housden on 0208 541 0186 or Carrier UK at www.carrier-deck.com
May 13th South Devon Glider Day
Dartmoor SS Club. On Site Winch, Bungee and Aerotow. Little Haldon Airfield, Nr Teignmouth, South Devon, off B3192. Contact Joe Spires on 01626 834014 or Stan Yeo on 01626 332287
Inc. SAM 35 Vintage Power Duration. Middle Wallop, Nr Andover. Contact Bill Longley on 01258 488833 or tasuma@btconnect.com
May 19th Blackbushe Model Air Show Blackbushe

RCMF EVENT LIST http://www.rcmf.co.uk/4um/index.php/topic,87486.0.html