---
Gloucester MFC News
See Blog http://www.glos-mfc.co.uk/blog/blog12/feb12/feb12.htm
Indoor flying at Bentham has now finished, it will be back in the Autumn

Sunday April 1st will be the first of the themed days and as it's All Fools Day we will be starting with anything silly, daft, unusual, weird or just total insane . I'm sure the weird imagination of our members will come up with something unusual.
---
SCSA

| | |
| --- | --- |
| | |
| Mick wins the paper airplane comp | The final |
Next Club Meeting
The next Club meeting is on Wed 18th April at the BGGC
The draw for the Radian electric glider was won by Geoff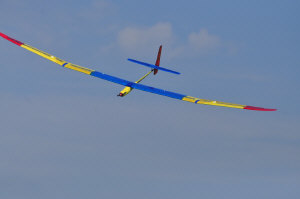 ---
Slope Flying

Monday

Strong lift at Frocester

Tuesday
Another day at Frocester and quite warm for March


But before the lift moved to Selsley Phil specked his Wild Thing almost out of sight against a clear blue sky - typical. That old brick still goes up in warm air rising...
Guy

Wednesday
Rodborough

Phil flew my Highlight today at Rodborough to a height where it was disappearing in the blue sky. He could not get it out of the thermal lift! Spiral dives, inverted flight and it would not come down. I had given up on it!

Phil admitted to have been nervous! Rolls (with a Hightlight?) seemed to help and it eventually came down. The whole loosing height episode took15-20 minutes and I was amazed how the airframe stayed in one piece, the way it had to be treated!

I won't let Phil fly it again!!

I was doing OK with Guy's model as we walked from the east facing slope back to SE facing slope car park, as we crossed the road the Highlight hit a very powerful thermal.

I tried flying out of it but made no progress, then spinning and flying inverted, all failed. I used a spiral dive in the end.

My Electric Supra was struggling to get to 150 metres in 30 secs, it is fitted with a Hobby city 810KV inrunner and had a 13 inch x 7 prop taking 350 watts on a 3 cell 2,2 amp battery.

I changed to a 4 cell 1.3 amp battery and reduced the prop to 11.5 x 5 and was surprised at the results

I have tried to do the math's

One horse power will lift 1lb 550 feet in one second, so 4lb in 16 seconds would be 0.25HP, I am putting in 400 watts so the efficiency would be just under 50%

The prop calculator is at http://brantuas.com/ezcalc/dma1.asp

Friday

Brian, Guy, Mick, Andy G and I had a pleasant afternoon on Minch, but ruined to a large extent by a bunch of inconsiderate and antisocial t055ers flying IC models and ludicrously noisy electric wings, apparently hell-bent on getting model flying finally banned from the common altogether by enraging and intimidating everyone within a half-mile radius. I'm even thinking of writing to the Council myself.

Anyway, the thermals started off well but gradually faded. Mick and I had a bit of Alula catching practice.

Expats Andy and Christine D turned up to wish us 'bonjour'.

J


Saturday

The lift at Minch got better as the morning progressed
My last flight before lunch is below
Phil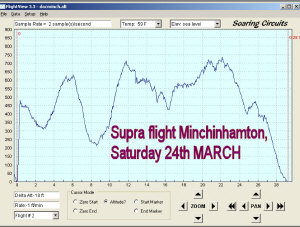 Sunday
The lift built up to strong by lunch time, Rodborough was very thermally, Ben's Albatross got very high and Tim thermalled his M60
I failed to find lift on minch

More photos at http://www.ebley.talktalk.net/photos2/?C=M;O=D
---
For sale
Crimping pliers with crimps

The specially designed Crimping Tool securely crimps the pins to servo leads creating a permanent, reliable connection. The pins are then inserted into the plastic housing. Wire leads from 28 through 20 swg can be used. Just cut the leads to length, strip off the insulation, crimp the pins on and install the appropriate plastic housing. It takes about five minutes per connector and can even be done in the field
£10

Phil

tel: Phil 07966 175193
Spektrum DX4e

With Instructions Manual

£25

Contact Andy Kirby

07570 118966

20/3/12
FOR SALE
ic starter, Thunder Tigre 42, Futaba Dual Conversion Receiver, Multiplex Gemini, Spektrum DX7 EU,35 meg Receivers, Radian Pro Electric Glider, , 35MHz receiver, 325mm heli blades, Crystals
For Sale Page http://www.glos-mfc.co.uk/forsale/for-sale.htm
---
Some Events
http://www.longmarstonmodelairshow.co.uk/
Join us on May 12th-13th 2012
Welcome to Warwickshire's premier aeromodeller show!
Long Marston Model Air Show 2012 will take place on the weekend of May 12th - 13th and will be bigger and better than ever before.
With reduced tickets prices, free camping and family attractions, the show will be an event for all of the family. We will of course have our favourite show pilots and traders supporting us (thank you to you all) and the usual entertaining and informative commetary from Dave Bishop.
Mar 3 BMFA 60" Foamie Slope Racing League 1
South Wales. Contact Ronnie Lampe on 07977 501195 or rocketronnie@hotmail.co.uk
Apr 8-9 SAM 35 Gala and SAM 1066 Vintage Meeting
Inc. SAM 35 Vintage Power Duration. Middle Wallop, Nr Andover. Contact Bill Longley on 01258 488833 or tasuma@btconnect.com
May 19th Blackbushe Model Air Show Blackbushe

RCMF EVENT LIST http://www.rcmf.co.uk/4um/index.php/topic,87486.0.html