---
Gloucester MFC News
See Blog http://www.glos-mfc.co.uk/blog/blog12/feb12/feb12.htm
Indoor flying at Bentham; every Saturday 6.00 - 8.00PM
Indoor flying will continue every Saturday until the 24th March
more photos at http://www.glos-mfc.co.uk/indoor/id12/mar12/mar12.htm
Sunday April 1st will be the first of the themed days and as it's All Fools Day we will be starting with anything silly, daft, unusual, weird or just total insane . I'm sure the weird imagination of our members will come up with something unusual.

---
Slope Flying
Monday

Tuesday
Good lift on Minch in the morning but not so good in the afternoon
I flew My Simply the Best in the Morning and my supra in the afternoon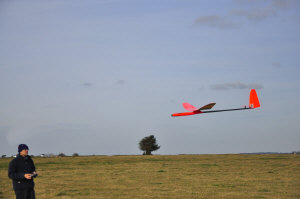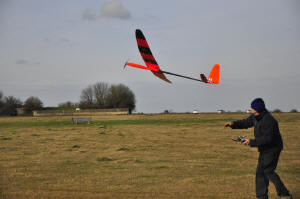 Thursday
Good Lift at Frocester about 10MPH square on to the slope

Friday
strong lift again at Frocester, but a little murky
Photos: Andy's Gulp and Mick's Fastback
Hi Phil, A great shot of an SR over the commons. We are watching All Creatures Great and Small at this very moment. I am just finishing a house project that took me almost out of creating planes for a year. At least the work I did paid off for Gregg Bolton in his setting the fastest DSing speed for an EPP plane at 238. The new DS-48 is one of those planes that hits the design mark you were hoping for. Certainly not all do. On to some new designs soon. A friend is asking for a delta and the only one I made was a bit disappointing as an electric schoolyard flyer. It might just have been under powered. I soul take it too the slope for a toss.
Hows things with you?
Cheers, Steve

Saturday
Frocester was good but a little light this afternoon. Tim's M60 stayed airborne with out any problem. It had been built light though. Joined by Dan and Tony and myself...

I suspect there were some flying at Selsley as it was a tad West of SW.


Sunday
Big lift and big sink at Selsley this morning, after a slow misty start. The floaty thermallers were doing well on it, but the wannabe-quadriplegics paragliders were taking a lot of liberties.

I flew a wing and a Weasel - I think the Weasel got higher than ever before, the wing did too but 30 seconds after being a speck in the sky it was down on the deck, and I ended up having to walk to the edge so I could see where it landed out, i.e. in the field behind the trees but in front of the road... that hill looks a lot higher from the bottom than it does from the top.

The lift was almost all thermally today, hardly anything off the slope at all.

Lots of buzzard chasing as well - one of which sneakily led people into some big sink then shot off back to the lift!


More photos at http://www.ebley.talktalk.net/photos/?C=M;O=D
---
For sale
newly listed items

IC engine Starter, Ballistic high torque
£10

Phil 07966 175193
FOR SALE
Thunder Tigre 42, Futaba Dual Conversion Receiver, Multiplex Gemini, Spektrum DX7 EU,35 meg Receivers, Radian Pro Electric Glider, , 35MHz receiver, 325mm heli blades, Crystals
For Sale Page http://www.glos-mfc.co.uk/forsale/for-sale.htm
---
Some Events
Mar 3 BMFA 60" Foamie Slope Racing League 1
South Wales. Contact Ronnie Lampe on 07977 501195 or rocketronnie@hotmail.co.uk
RCMF EVENT LIST http://www.rcmf.co.uk/4um/index.php/topic,87486.0.html