---
Gloucester MFC News
Indoor flying at Bentham; every Saturday 6.00 - 8.00PM
There were 35 flyers at the indoor session, with the mini plane the most popular
Annual General meeting. Thursday 8th December 2011
Bentham Country Club 7.30pm for 8.00pm start.
Agenda available soon.
17th Dec Christmas draw
Prizes list includes:
E-flite Blade MCPx micro heli,
ST Models MX2 ARTF,
Vintage Kit donated by Colin Buckle,

---

Slope Flying
Monday

Tuesday
light lift at Selsley, Mike's Condor stayed up well, only slightly down on my Star
Wednesday
Another grey day with the wind doing 180 taking us to Haresfield
Eyeboy flew the wing he bought at the SCSA auction; the tapered wings made me think it might tip stall but I was wrong
see video http://www.youtube.com/watch?v=Bjj4rws_7qk&feature=youtu.be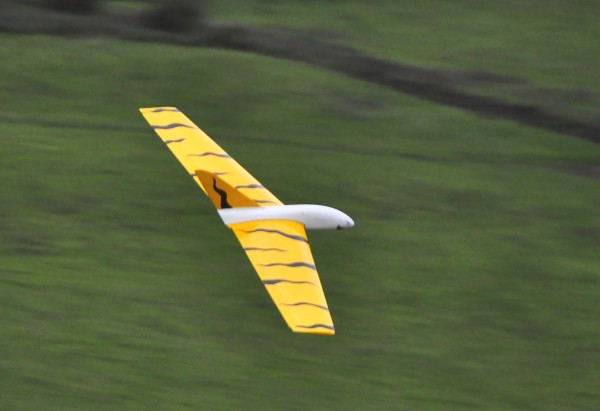 Thursday
Friday
Frocester
Well that was an entertaining afternoon - pity it started raining just as Sqeela arrived! There was a mass evacuation under way as I drove off - I don't know if anybody went back?

It was a good lift day, just a pity it went right round the corner so the landing zone was well into the lift which made it quite hard to land.

Thankfully the Acacia was as well behaved as ever under crow, so I got it down nicely severaltimes, and brought it back unscathed! My apologies to the pheasant I did a slow hovering landing on in the bracken though.. it didn't seem pleased.

Brian Tucker had his renovated Magister PSS jet there, which flew beautifully and landed under crow even better than the Acacia did!

Here's the proud father: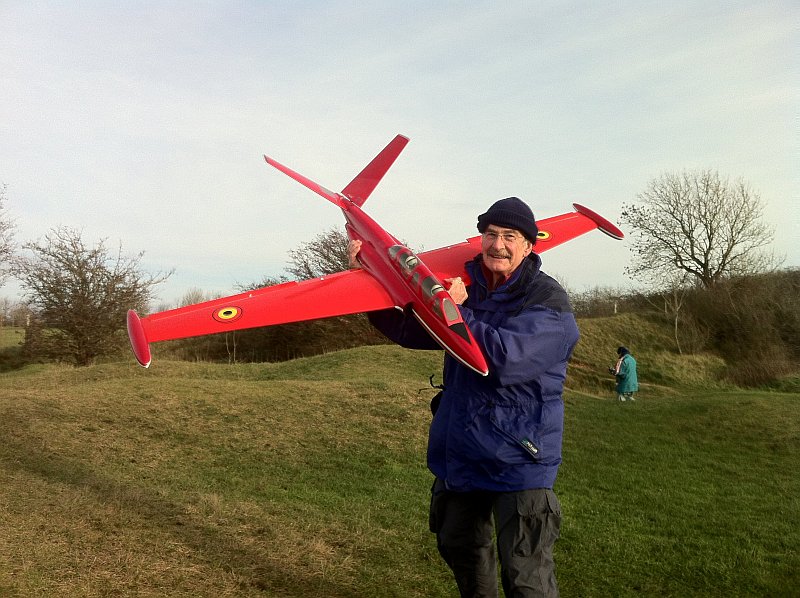 Saturday
Sunday
Wotton under edge Cooker and oven repairs
More photos at http://www.ebley.talktalk.net/photos/?C=M;O=D
---
For sale,

newly listed items

25/11/11

35meg receivers

Futaba 5 channel

Futaba 8 channel dual conversion

GWS 8 channel dual conversion

GWS 8 channel

Multiplex 8 channel

Corona 6 channel micro

£10 each

phil@glos-mfc.co.uk tel 07966 175193
---

FOR SALE

Radian Pro Electric Glider, RX-6-DR light M-LINK 2.4 GHz r
receivers. , CML RAPIER 250. JR PCM9X transmitter, Spektrum AR6100, 67" Scale Piper Cub , 68" sport model, Super GRONE 236 mcpx ,DSX9, , 40 size low wing trainer, Kyosho Calmato, , Twister Storm Hel, Top , AXI motor AR6100e, Vibe50 heli, 2.4 TX, 35MHz receiver, 325mm heli blades, Crystals
For Sale Page http://www.slopers.kisstheblade.com/fs/forsale.htm
---
Some Events
SCSA Club Meeting
14th December SCSA AGM 8.00PM at the Bear of Rodborough. The AGM will be followed by a quiz organized by Doug Garland. Your 3rd party insurance expires on 31st December. Please attend, join the committee, pay up and enjoy the quiz.
Note this meeting is the 2nd Wednesday in December NOT the 3rd Wednesday.