Phil's SCSA Newsletter
21.01.2007
Please send photos in full resolution as Jpegs with minimum compression and no adjustments, text is best with paragraphs but no carriage returns.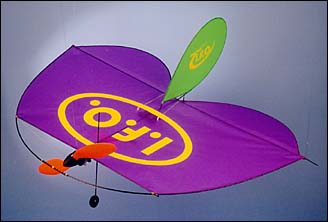 If you keep breaking your depron park flyer, how about one of these? Ripstop, brushlees and Li-polys have improved this model. The mini IFO( indoor flying object), designed to fly indoors and is nearly unbreakable. If you make one redesign the under carriage, unless you want to pack it flat to go in a suit case. I have the full sized version and I am making a mini
DIARY
Indoor Flying, details click here see map Gloucester Model flying club. Saturday 27th January 2007. 6.00pm until 8.00pm
Feb 4th Telford Swapmeet
10 am on. War Memorial Club, Shifnal, Shropshire. Contact Graham Thomas on 01952 583960 or 07967 695384 or thomas_graham@hotmail.com
Please contact me if you know who owns this address david@jay-t.net his mail bounces and I can not identify it

New local weather station Elmbridge Weather Station
Winter so far has been dominated by a jet stream that has been orientated across the North Atlantic in a West to East direction. As a result there has been a persistent stream of low pressure systems crossing the North Atlantic bringing very unsettled and mild weather for weeks on end. The change comes about as the jet stream ridges North-wards towards Greenland creating a ridge or block of high pressure within the Central North Atlantic. Downstream of this feature over the UK a Northerly wind then develops.

---
Paper Aeroplane Competition 2007

We had a good turn out for the paper aeroplane competition this year which was held in the Terrace Room. I think that we had 16 entries.
Paper was supplied by Brian Boucher. The paper was all recycled and some sheets had a small section of laser printed text others had laser printed colour pictures, which enabled covert ballasting by folding in the right place!!
Doug Garland was coerced into running the competition - after a couple of beers Doug can be coerced into volunteering for almost anything!! Thank you Doug, it was a good night.

The rules were as always - 1 sheet of A4 paper to be used. All of the paper has to on the plane and nothing else. A huge variety of origami was on display with no 2 models being identical.
The contest started in pairs - the names being drawn out of a carrier bag at random. The competition is a knockout contest. Each pair gets a best of 3 result, the winner is in the air longest and flies in the next round, the loser gets knocked out and hangs his head in shame.
With 16 entrants we had 4 heats of fliers, 16, 8, 4, and 2.
The last pair i.e. the finalists were Andy Westgate and Mike Brinkworth - last year's Chairman and this year's Chairman who fought it out via a 5 leg final. It was very closely fought final but the overall Champion was Andy Westgate.
The Paper Aeroplane Trophy was presented to Andy Westgate by Mike Brinkworth.

Hi Phil
Thought that you would like to know that the Yak has left the bedroom and has had a successful first flight!
Pleased with the performance, just need some better weather to improve my flying!
John
Editors note, John and me bought one each at Woodspring, I flew mine the next day.
---
The week last week
Tuesday bumpy lift at Frocester due to wind being on Haresfield. Wednesday a nice day at Frocester, Friday and Saturday strong lift at Frocester again. Sunday a near perfect day at Frocester and a good turnout.
| | |
| --- | --- |
| | Peter's Hercules looked good in the air, it flies well for a PSS model. Bryan flew his ASW27 and mike the web flew his smaller ASW27b. I had a flap servo fail in the air on my Nyx but landed OK with only one flap lowered. Brian's Wanabee broke both servo arms after a heavy landing. |
Peter's Adrenaline flying in the bowl, it liked the strong lift and had an impressive turn of speed.

I have added some more photos to the club photo pages