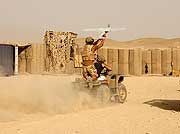 New 13/10/08 Pick your favourite caption:
1. Extreme electric glider flying anyone?
2. Who forgot the winch?
3. Great plane design, but the undercarriage might be a bit over engineered.
4. You did read the instructions didn't you?
5. I need more power Scotty!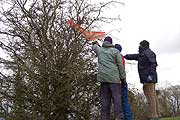 Oh look, there's still a pressie left on the xmas tree!
Oh, no there isn't.... Phil's just decided to land his Zagi in a bush (can't imagine why)
There's also a joke about 3 wise men somewhere in here...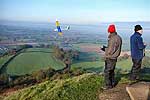 Phil "the photo" searching in vain for a glider to try out his new camera on.
Phil - It's behind you!
....well, it is panto season :-)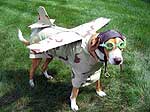 You know you get those models that are a real dog to fly? Well, here's another!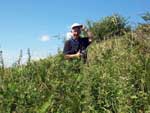 I'm sure my model landed in here somewhere!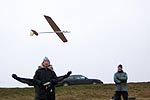 I know Pete's a clever chap, but where did he get that extra pair of arms from?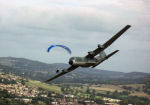 Hmm... Has someone baled out of Pete's Herc? or is it just a paraglider in the distance?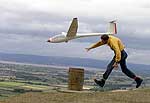 Grrruuumphhhh! ...now that's what you call a launch!
...Now some important questions (answers on a postcard please)
- Why are both of Pete's feet off the ground?
- Did he forget to let go in time?
- Why's he wearing odd colour socks?
- Is he going to leapfrog over the viewpoint marker?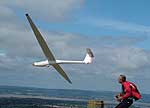 Thinks... so that's the model launched,
errr... WHERE'S MY TRANSMITTER GONE???

There's never any contention between paragliders and model gliders on Selsey

Giant HLG spotted over Rodborough Common!
...Or is it "News Flash - 6 inch high midget spotted flying r/c glider"
"Wot's that Thing growing over there?"

I know my model's around here somewhere...but where did it go? ...Is our new comp sec. Andy trying to invent a new competition perhaps?

Humph ...that'll teach you for not winning the pylon comp ..take that you stupid Zagi!
FOR SALE: One Zagi .....one careful owner...

It's spring time! Phil jumping over his Jazz ...don't know why though?

Looks like this pilot needs to tighten his seatbelt properly next time!

Photo of Paul Jewell with his Cumulus 2800 following a perfect landing in a bush near the top of Cam L Down (quote from Pete Wolf)

Andy demonstrating the art of how not to do dynamic soaring. I think you're supposed to fly over the top of the hill, not into it Andy :-)

Yup, it's definitely windy today...

So what is this cow thinking? ...answers on a postcard (or email) please :-)

And you think your radio is old!

Another in the c**p landing series of photos!


Bryan landing on Frocester...you can just see the wingtip as he lands behind the hump. The second photo shows what happened to the pilot after the landing....he lost it completely (his legs that is)
Note: Don't worry, this is a staged picture and no rubber pilots or models were harmed in this "production"

A Zagi dropping a huge "bomb" ...Say no more!

The "bomb dropping" Zagi pilot.

A really c**p landing....A great big landing area and he picks a huge cowpat to land in....lovely!
Still perhaps with all that muck on the Mininch it'll grow into a Calypso...

. A close up of the above photo

See, It can happen to even the best gliders. Pete's Calypso picks up a pile. Unfortunately we didn't get a photo of Brian's glider that also landed in a cowpat on the same day as these photo's...now that's what you call a really c**p day

This what happens when you let Andy (the club chairman) teach you to fly. The model's in the top of a tree and there's no sign of Andy!

That's a funny place to land Pete.....well, the rest of us though it was funny anyway!

So what can you say about this...Who on earth would throw a Zagi off Frocester with a 1/4 scale K8 pilot hanging off the back?....Dylan, perhaps you could answer this one?

3 very dodgy looking characters....Are they just about to do a bank robbery, or are they about to fly their models?....(taken at the Boxing day pylon race...very, very cold!)

A little something to do if it's too foggy to fly - Let's play "jump the Zagi"......mad or what??

He's back again! It's not Father Xmas, it's Father Petemas! When Pete was asked to run the Boxing day pylon race he obliged, but decided as it was Xmas to dress up in fancy dress as well.....

The joys of model flying in winter! it's wet...very, very wet! Frocester hill in November....Lovely!

And if it's not raining...it's foggy. This was supposed to be the pylon race comp (on Haresfield) in October. However as you couldn't see more than 50 feet it would have been a bit tricky!

Haresfield again. Look at that big lump of fog rolling in on top of us...This was the pylon race comp again, in one of the few moments where the fog lifted.

Example No.1 of how not to land...vertically! Fortunately it's not as bad as it looks, the grass is about 2ft high and the model stalled in from a few feet up, so no damage was done. (Apart from the pilot's pride!)
As the webmaster I'm not saying who landed their plane like this, but there's no truth in the rumour that this is my plane!

Example No.2 of how not to land a plane. Different pilot (Pete), different model, different tree, same result.... Some ***** with a camera rushes out and takes a picture!
Funny how the camera never comes out when you make that superb landing!

Pete on a bike. As you can see he's sat on the handlebars and riding backwards over very rough grass. Say no more...

Pete again. Shorts, T-shirt and an umbrella. The joys of model flying in summer.

Pete "fishing" for his model after an unusual landing.

A new use for a Wild Thing. Bet you've never seen one used as an umbrella before.